Event Pricing
Event Info
More Info
Event Photos
The Superhero Tour is Here!
We have so many surprises in store for you! Grab your besties and spread the word because tickets will go fast!
We can't wait to see you! Below is all the information you will need to be ready for race day. Grab your tutus, your friends, and your running shoes and we'll see you at the start line!
For all ticketing queries please contact support@tixsa.co.za and for other issues please email hello@thecolorrun.co.za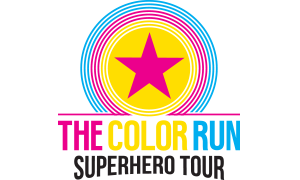 Event Address
Rooseveldt High School,
Thomas Bowler Street, Emmarentia
Check-In Party
Rooseveldt High School,
Thomas Bowler Street, Emmarentia
Friday 08 (10am – 7pm) and Saturday 09 September (9am – 5pm).
All registered Color Runners must collect their participation pack (this includes the official 2017 event shirt, headband, powder, temp' tattoos and race number and more) before the event date.
We'll have a full shop at the collection point selling all our awesome TCR goodies.
Remember to bring your ID as proof of your registration and the barcoded ticket / purchase receipt printed out or on your phone so we can scan you in.
Picking up for a friend?
Easy, just bring along all the barcoded tickets / confirmation email QR code either printed out on your phone so we can scan them. We'll also need a copy of the ID of the person who bought the tickets (just in case there is an issue).
Start Window
All Color Runners get ready in the start chute at 9:45am, start gun goes off at 10am to start The Happiest 5km in Jozi!
Each batch starts 3 minutes apart and you'll head off in each batch with approximately 500 new friends. It takes 1-2 hours to run or walk the route and then into the festival zone where you will enjoy music from awesome DJ's, local acts, best-dressed competitions, food and drink and you guessed it, more color!
Charity Highlight
The Color Run South Africa raised over R500,000 in 2016 for local causes and educational based initiatives in the areas we visit. In addition R10 from each ticket is donated via Capitec Bank to their educational uplift program.
Tickets
Your Ticket includes
• Our retro 80's headband ready for the 2017 awesomeness
• The all new 2017 Superhero Tour official runners t-shirt
• R150 coupon for Takealot.com emailed through to you with your tickets.
• Your very own bag of color powder to go wild with at our festival zone
• Temporary happy tattoo x 2
• Race number (and pins!)
• Entry to The Finish Festival and more!
Ticket Prices
• Solo Runner / Walker: R270
• 4 – 10 Team Entry (pp): R245
• Late Entries / Race Day – All tix: R300
• Student Entry R200 (with valid student ID)
• Smart Fund Raising R270
Kids Under 10 Run free! As long as they are accompanied by an adult**
*Excludes the online booking fees **T&Cs apply (free entry excludes Fun Pack, all children under 10 must be registered @ Race Pack Pick Up or on Race Day and display an official safety wristband with guardians contact details completed)
Ticket Purchase
Onlne:
Tickets can be bought online with a valid credit card or debit card
EFT Transfer: ARE NOW CLOSED.
All Tickets are now sold at the venue during collection times.
For all ticketing issues and problems please contact our ticketing partner, TixSA, on support@tixsa.co.za
Manual Entries: ARE NOW CLOSED.
Manual Entry points are now closed. All Tickets are now sold at the venue during collection times.
Parking
Limited secure parking will be provided @ the event. You'll find all the parking information in your Runners Handbook which will be emailed to you in the lead up to the event.
Please contact us on hello@thecolorrun.co.za if you require disabled parking or have other special needs in this regard.
Other Q's
Coupons:
Your Takealot.com coupons are sent via email to the address registered and will be included in the same message as your tickets. Your email will contain the coupon for your R150 spend @ Takealot.com. EFT and manual entries can take 7 – 10 days to receive them. Coupons are emailed to the main purchasers email address, please check your spam and junk folders to see if it's ended up there or if the main buyer is holding them! The same code can be used for all people in your booking. The codes are applied to purchases of R350 or more and you use these during the checkout process. Coupons are limited in numbers for each location and maximum redemption amounts are included on each coupon. One coupon per person applied on your first Takealot.com purchase. Further T&Cs apply, please contact Takealot.com for full details.
Did we say kids under 10 are free?
Did we also say only fully paid up runners get the full Runners Pack and that all free runners under 10 need to be registered at Race Pack Pick Up and display their official safety wristband completed with their name and their guardians contact details? Hit us up on Facebook or drop us a line on hello@thecolorrun.co.za and we'll get back to you asap. We'll be posting FAQ's here as we go along.
Don't forget to tell the world that you're running the Superhero Tour by using #TheColorRunSA  #Happiest5K #TCRHERO on FB and Twitter!
The SAPS has warned against pickpockets and bag slitters prevalent at mass participation events. 
Participants carrying backpacks have had their bags slit and their valuables stolen during races and concerts. Please be warned. If you have a back pack, please carry this on your chest, especially when waiting in crowded start chutes or in queues.
Please stay aware and report any suspicious activity to security or JMP officers.
Sponsor Inquiries
Presented By